---
Clinic Information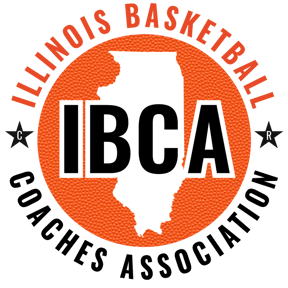 The Illinois Basketball Coaches Association will host our annual State-Wide Clinic on September 17th-18th, 2023, at Illinois Wesleyan University in Bloomington, IL.
2023 IBCA Clinic will offer more options with format changes, including interactive breakout sessions. In addition to the Illinois State men's staff running a sample practice, there is a great lineup, including Drew Hanlen, Dennis Gates, Karrie Redeker, Deb Coffman, Kim Wentsis, Erin Sinnot, Mike Miller, Dennis Rueter, Mike Helton, Danny Grieves, Brad Storm, Ron Rose, Scott Trost, Dave Witzig, & even more being finalized!

SUNDAY, SEPTEMBER 17th
11:45a-12:35p: Drew Hanlen (Pure Sweat) - Skill Development That Leads to Game Results

12:35-12:50p: Shooting Drills on The Gun with Jake Wright
12:50p-1:05p: IBCA Updates and Announcements
1:10p-2:05p: Roger Powell (Valparaiso) - Developing a Lasting Vision and Culture for Your Program
2:15p-3:40p: "Pick 2" - Choose 2 of the following 40-minute breakout sessions (2:15p-2:55p and 3:00p-3:40p)
Classroom:

Ron Rose (Illinois Wesleyan), Scott Trost (Lewis) - Helping Your Players Navigate the Current Recruiting Landscape
Practice Gym: Mike Helton (Rend Lake CC), Mike Miller (Retired), Tony Lavorato (Retired) - Situational X's and O's
Arena: Erin Sinnott (Buffalo) - "Defense that Dictates"
3:45p-4:30p: Illinois State Men's Basketball Practice Session 1
4:30p-6:00p: Dinner (on your own)
6:00-6:55p: Illinois State Men's Basketball Practice Session 2
7:00p-7:55p: Dennis Gates (Missouri) - Mizzou Defense
8:05p-9:30p: "Pick 2" - Choose 2 of the following 40-minute breakout sessions (8:05p-8:45p and 8:50p-9:30p)
Classroom: Karrie Redeker (ICC), Debbie Coffman (Bloomington Central) and Kim Wensits (Yorkville) - Growing the Women's Game
Practice Gym: Dennis Reuter (Waterloo Gibault), Danny Grieves (Metamora), Taylor Rohrer (Lincoln), Ed Stritzel (Nazareth Academy) - 20 in 25
Arena: Steve Schweer (Illinois College) - The Building Blocks of Blueboy Basketball Success
9:45p-11:30p: IBCA Coaches Social (Barrel House - 9 Brickyard Dr., Bloomington, IL)

MONDAY, SEPTEMBER 18th
9:00a-9:50a: Brian Barone (SIUE) - "ABC's of Coaching"
10:00a-12:20p: Choose 3 of the following sessions
Classroom:

Brad Storm (Retired) - Keys to Effective Scouting for YOU.


Classroom: Billy Pitcher (Lake Park), Rob Brost (Bolingbrook), Phil Ralston (Glenbrook South) - Building a Championship High School Program
Practice Gym: Dave Witzig (Normal) & Thom SIgel (Retired) - Coaching the Hearts of Your Players
Arena: Olivia Lett (Millikin) -

"Developing the Full Player On & Off the Court"
CLICK HERE
to view our list of past clinic speakers!
HOTEL RESERVATIONS
We have reserved a fantastic rate of $115/night for our coaches at the Doubletree in Bloomington. Breakfast and WiFi included! You will receive hotel reservation instructions once you have registered for the clinic!
SPEAKER BIOGRAPHIES
| | |
| --- | --- |
| Drew Hanlen | The Belmont product Drew Hanlen is regarded as one of the top skills coaches in the world after starting Pure Sweat Basketball in 2012. Since then, he has trained many of the top NBA players and has transformed the manner in which the game is being taught. |
| Roger Powell | Coach Powell prepped at Joliet West HS, and was a 3 year starter at Illinois. He was a key to the 2005 Illini's National Runner-Up team before a pro career that included playing with the Utah Jazz and numerous stops overseas. He has been an assistant at Valparaiso, Vanderbilt, and the last 4 years at Gonzaga. While at Gonzaga, he was on staff as the Bulldogs reached the National Title game. He returns to Valparaiso to begin his first year as the head coach. |
| Ron Rose | Ron Rose played at Illinois Wesleyan and has served as the Head Coach for 17 years, passing the 300 win plateau last season. During his time at IWU, the Titans have won 5 CCIW titles, reached the NCAA Elite 8 in 2022, and advanced to the Final Four in 2012 and 2014. |
| Scott Trost | After serving as the Head Coach at Elmhurst University, Scott Trost served as an assitant at Michigan for four years. He returned to the CCIW in 2002 as the Head Coach at Illinois Wesleyan before moving on to Lewis University. He has been the Head Coach at Lewis for the past 17 years and is the all-time leader in wins. Lewis has had five 20 win seasons, played in the NCAA tourney six times, and won the GLVC championship in 2016 and 2021. |
| Mike Miller | Mike Miller has coached the single season wins record holders at Rockford Guilford, Galesburg, and his alma mater Rockton Hononegah. He has a total of 572 wins and finished 2nd in State with Guilford in 1993 and Galesburg in 1998. He was inducted into the IBCA Hall of Fame in 2013. |
| Tony Lavorato | Tony Lavorato was inducted into the IBCA Hall of Fame in 2023 after 24 years as a varsity coach. He ended with 407 career wins, including being the all-time winningest coach at Maine South with 354 wins there. His teams won 4 conference titles, 5 Regionals, had 2 Sweet 16 appearances, and advanced to the Elite 8 in 2010. |
| Mike Helton | Coach Helton is a HOF coach who coached girls basketball at Goreville High School. During his 28 years the Blackcats won 512 games, reached the Elite 8 five times, the Sweet 16 ten times, won 16 conference championships and 11 regional titles. He has also served as a collegiate assistant and now heads up the Rend Lake College women's program. |
| Erin Sinnot | Erin Sinnot is a rising star in the coaching ranks. She has served as the Director of Operations at Rising Coaches. She served on the staff at Southern Illinois and Minnesota before moving to her current position at Buffalo. |
| Illinois State Staff | Head Coach Ryan Pedon is in his second year at ISU after being an assistant at Illinois, Butler, Toledo, Miami (OH), and Ohio State. He will be joined by members of his staff, including Rob Judson who was the head coach at Northern Illinois and an assistant at NIU, Bradley, Illinois, Indiana, DePaul, and Marquette. |
| Dennis Gates | Dennis Gates was a starting guard on the 1998 Whitney Young state championship team. After a fine career at Cal, he started his coaching career - serving as an assistant at a number of schools. In 2019 he became the Head Coach at Cleveland State. After a successful three year stint at Cleveland State, he became the Head Coach at Missouri last year and the Tigers went 25-10. |
| Deb Coffman | Debbie Coffman is a high school graduate of Prairie Central High School and Eureka College where she participated in basketball. She has coached all 25 years at Bloomington Central Catholic with over 562 wins. She led the Saints to a 2A state title in 2010, runner up in 2011 and 2017 and a third-place finish in 2015. She is a member of the IBCA Hall of Fame and Eureka College Hall of Fame. She currently is finishing up serving as the first female president of IBCA. |
| Karrie Redeker | Karrie Redeker was inducted into the IBCA HOF in 2021 as a coach and was awarded the Derril Kipp Courage Award in 2019. She was a standout player at Crescent-Iroquois and SIUC. Karrie has won 582 games as a high school and college coach (582-171) in 24 years, and she is in her 11th season at ICC. While there, her teams have advanced to NJCAA Elite 8 five times and finished 2nd in the nation in 2016 with a 32-5 record. She was also inducted as an IBCA HOF player in 2003. |
| Kim Wensits | Kim Wensits is entering her 8th season as Head Girls Varsity Coach of Yorkville High School. During her reign, the Foxes captured the school record for most wins in a season going 26-3 and captured two Regional Titles in her first three seasons. Aside from coaching, Kim has also spent time on the Grow the Game committee helping organize the tournament that is now in its 3rd year as well as the acting secretary for the IBCA. |
| Dennis Rueter | Waterloo Gibault Coach Dennis Rueter is a 2010 IBCA Hall of Fame inductee. His teams have won 795 games during his long and successful career, which includes 17 Regional titles and 5 Sectional Championships. The Hawks finished 2nd in Class A in 1999, and captured the 1A State Championship in 2023. |
| Danny Grieves | Danny Grieves played at Peoria Central and Monmouth College. He has coached at Northwestern State and Monmouth College as well as being a high school head coach in Louisiana, Mississippi, and Illinois with a total of 571 wins. He coached two State Champions in Mississippi in 1998 and 2011. Currently at Metamora, the Redbirds finished 2nd in Class 3A in 2022 and won the State Championship in 2023. |
| Taylor Rohrer | Coach Rohrer has racked up 177 wins in 11 years at Lincoln, including an impressive 60-10 record the past two seasons. Last season Lincoln finished 2nd in 3A and will likely be ranked #1 or in the top 3 at the start of this season. Under her guidance, Lincoln has won 3 Regional titles, 2 Sectionals, and 1 Super Sectional title. She assisted at Rosary and Elgin Larkin high schools prior to moving to Lincoln. |
| Ed Stritzel | Ed Stritzel has a girls basketball career coaching record of 410-93. At (River Forest) Trinity his teams went 236-51. While at LaGrange Nazareth Academy he has so far compiled a 174-42 record and placed multiple times at state. In 2018-2019 his team placed 3rd. That was sandwiched around 2nd place finishes in 2018 and 2022. Last year they won the class 3A state title with a 35-1 season record. |
| Steve Schweer | Steve Schweer is a Hinsdale Central High School graduate, and he also had a very successful career at Illinois Wesleyan. After serving as an assistant at Lakeland, North Park, Monmouth, and North Central, he has been the Head Coach at Illinois College for the past five seasons. Last season the Blueboys set a school record going 25-3 and winning the Midwest Conference regular season and tournament titles. |
| Brian Barone | Brian Barone is starting his fifth season at SIUE. The Cougars went 19-14 last season, posting the first winning season since the school made the transition to Division I. He has experience as a JUCO Head Coach as well as serving at a number of schools as an assistant, including Illinois State, Indiana, and Green Bay. |
| Brad Storm | Brad Storm coached boys basketball for 31 years, 24 as a varsity head coach - the last 28 of those years in Illinois. He has assisted at Bloomington H.S. South and Eminence H.S. in Indiana, at Geneseo and Moline in Illinois. He was the head coach at Eminence, Erie and Geneseo. His teams have won 4 Regional titles and his 2008 team reached the Sweet 16. |
| Dave Witzig | Dave Witig is in his 25th year as the head coach at Normal Community after prepping at Morton HS. While at Normal, he has coached 6 Big 12 Champions and won 11 Regionals while accumulating 482 wins. The Ironmen took home a 4th place finish at State in 2011 and were the Class 4A State Runner-up in 2015. He was inducted into the IBCA HOF in 2022. |
| Olivia Lett | Olivia Lett was a star player at Pana High School prior to attending Illinois Wesleyan. She had a standout career at IWU, leading the team to the 2012 Division III National Championship. After serving as an assistant at IWU and the University of Chicago, she took over at Millikin in 2019. In her 5 years at Millikin, she has won 2 CCIW Regular Season and Tournament championships. |
| Rob Brost | Rob Brost is the all-time winningest coach at Bolingbrook, winning over 300 games in his 16 years there. During his time there, they have advanced to the Final 4 three times. In addition, Coach Brost has also worked with USA Basketball for almost a decade. |
| Phil Ralston | Phil Ralston is in his 24th year as a head coach with a career record of 436-225. Currently at Glenbrook South, he previously led programs at Geneva and Grant Communigy high schools. His teams have won 6 Regionals, 2 Sectionals, and one Super-Sectional. His 2015 Genena team finished 4th in 4A. |
| Billy Pitcher | Billy Pitcher assisted at Belleville East, Elk Grove, and Libertyville before becoming the head coach at Lake Zurich in 2010. At Lake Zurich they won 2 Regionals and won the Sectional in 2018. He has been at Lake Park the past five years where they have won 3 Regionals. He has been named IBCA District Coach of the Year four times. |